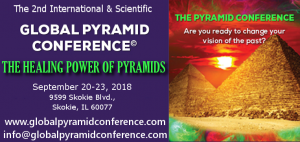 This was the Global Pyramid Conference
Chicago, 2018

It was great to meet so many wonderful and wise people at the Chicago Global Pyramid Conference: speakers, presenters, volunteers, conference and seminar attendees. All of them brought togehter in a field of love,respect and care for this planet by Marta Thomas, organizer of this amazing Conference. Together with teacher, mentor and pyramid colleague AraMaat Johannes Schlederer,  we presented our pyramids, had the honor of being on stage as speakers and held an After-Conference Workshop.
We are happy and grateful that so many people appreciated what we are doing: Johannes´ healing sessions between the two PHEM pyramids (Pyramid Healing & Enlightenment Machine) and sessions in the CHORAM ColoredLightPyramid with the Sacred Egyptian Oils for clearing and balancing.
Since there is a lot to know about pyramids, light and colors and its effects on our cell system, we were asked to give online webinars. We are just preparing for this now. We will inform you on our home pages and via FACEBOOK, and FACEBOOK AraMaat Johannes. For more information, or wanting to organize a seminar, let´s stay connected:  Many blessings Christiane
Experiencing the magic of colors
in the light-flooded  

CHORAM Colored Light Pyramid
for reconnection, recreation and stillness.
By reconnecting with our true self
Words written by Susan Alexjander, musician und composer, after a session in the CHORAM ColoresLightPyramid
"The choramlight session was one of the most surprising and profound experiences I have ever had. I felt my tired cells literally drinking in the light. Afterwards was a rejuvenation I had forgotten was possible. Thank you, thank you! These pyramids are so alchemically powerul and will help our tired planet. with love and gratitude"  Susan Alexjander, USA, www.oursounduniverse.com
Design:
The Colored Light Pyramid is an equilateral pyramid, whose skeletal structure is made of anodised aluminium rods. Integrated in the frame's base are high-quality LED lights. A light control unit allows the light to be changed to the desired color or to gradually cycle through all colors. A white, flame-resistant textile skin is stretched over the framework. The entry is closed with a zipper in order to create a completely closed-off space for uninterrupted dwelling inside the pyramid.
Control Unit:
A hand-held controller allows choosing the desired color or cycling through all the colors, at the desired tempo. The controller and power source are located outside of the pyramid in order to avoid electro-magnetic "smog." The analogue power control offers a comforting, flicker-free light.