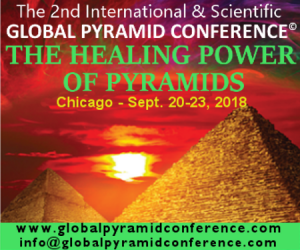 This was the Global Pyramid Conference 2018
It was great to meet so many wonderful people at the Chicago Global Pyramid Conference: speakers, presenters, volunteers, conference and seminar attendees. All of them brought togehter in a field of love and respect by Marta Thomas, https://www.globalpyramidconference.com/who-we-are , organizer of this amazing Conference.
Together with my teacher, mentor and pyramid colleague Johannes Schlederer, http://www.pyramidhealing.net, we presented our pyramids, had the honor of being on stage as speakers and held an After-Conference Workshop.
We are happy and grateful that so many people appreciated what we are doing: Johannes´ healing sessions between the two PHEM pyramids (Pyramid Healing & Enlightenment Machine) and sessions in the CHORAM ColoredLightPyramid with the Sacred Egyptian Oils for clearing and balancing.
Because of the vast knowledge (much of it still hidden) around pyramids, light and colors we were asked to give online webinars. We are just preparing for this now.
We will inform you on our home pages and via FACEBOOK, https://www.facebook.com/choramlight/ and https://www.facebook.com/johannes.schlederer.1
For more information, or wanting to organize a seminar, let´s stay connected: